23/06/2023 VinAI in the news
What did VinAI bring to Industry 4.0 Summit 2023?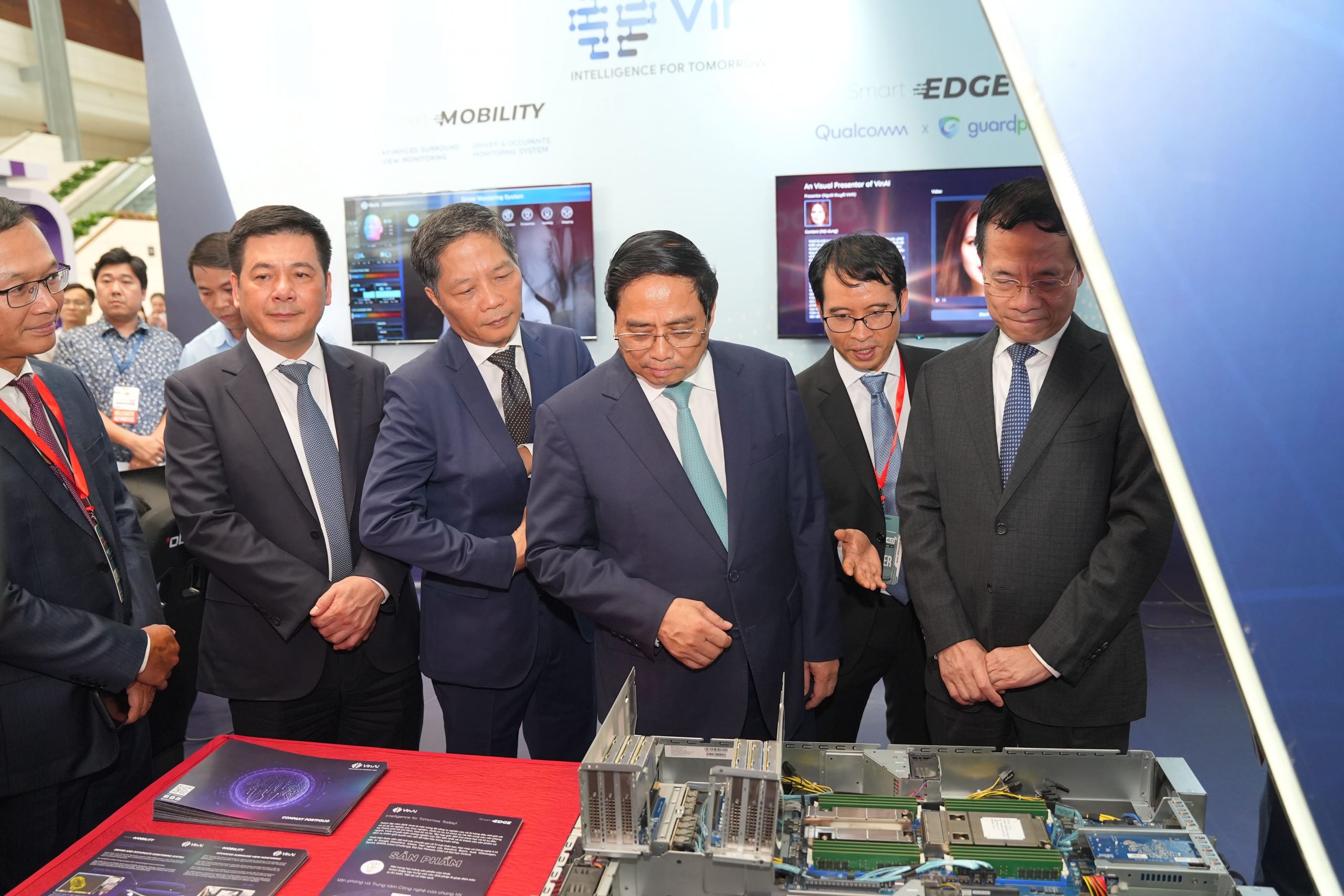 VinAI's Cutting-Edge AI Products Showcase High Applicability and Align with Global Trends at Vietnam Industry 4.0 Summit 2023.
During the Vietnam Industry 4.0 Summit held in Hanoi on June 14, 2023, VinAI displayed an innovative product portfolio including Smart Mobility (smart car solutions), Smart Edge (security and safety solutions for smart cities), and Generative AI. These artificial intelligence products have been created by Vietnamese people, with high applicability and are in line with new global trends. 
Smart Mobility – Next Level of Safety and Comfort for car industry
VinAI's Smart Mobility collection includes Driver and Occupants Monitoring System and Advanced Surround View Monitoring System. This suite of products applies artificial intelligence to "bring a new level of safety and comfort to the automotive industry". 
VinAI's Driver and Occupants Monitoring System uses artificial intelligence to identify drivers' dangerous behaviors such as drowsiness, drunkenness, smoking, and mobile phone usage while driving, offering timely warnings. This system also integrates the world-first Automatic Mirror Adjustment (AMA), along with HUD (Head-Up Display) and a virtual assistant. 
The Advanced Surround View Monitoring System gives the driver full control over the car's surroundings and automatically detects vehicles and obstacles in both surrounding areas and in blind spots. JellyView provides drivers with a fully transparent, 360-degree view of the car, offering live-time undisturbed imagery of the outside environment.  
These products are cost-competitive and can be applied to all car segments, from affordable to high-end, and even on buses or large trucks, increasing the level of luxury, safety and comfort for vehicles. With high compatibility, VinAI's Smart Mobility products can easily integrate with numerous hardware platforms, helping automakers optimize costs.  
Smart Edge – Security and safety solution
s
for smart cities
For Smart Edge, VinAI exhibited its newly launched product – GuardPro. This innovative solution analyzes image data using artificial intelligence and is capable of automatically detecting abnormal situations via the cameras, contributing to improving security quality in smart cities. 
GuardPro is the result of cooperation between VinAI and Qualcomm, a world-leading semiconductor corporation. This product helps turn individual IP cameras into a comprehensive security system, offering 24/7 monitoring and real-time notifications. Using artificial intelligence models and advanced computer vision technologies, GuardPro is capable of accurately analyzing the image data of hundreds of camera streams per processor to detect threats. The solution also helps businesses optimize 30% of hardware costs while minimizing electricity and operating costs. 
Generative AI – Future of Practical AI
Skillful investment in AI research and development is always the first step in the development of any new application or product. Though most people refer to Generative AI as a new trend in AI 2.0, VinAI has been conducting research in this area over the past 4 years. 
During Industry 4.0 Summit 2023, VinAI surprised thousands of attendees and distinguished guests with a Generative AI Reporter. 'She' is a large language model trained by VinAI to answer any question, offering a natural, flexible, and sharp response in Vietnamese. Another of her 'special skills' is her ability to transform herself from a picture of a foreigner into a Vietnamese citizen. 
Smart Edge, Smart Mobility and Generative AI are three of many examples of how VinAI is applying AI to create products for a smarter, more efficient and sustainable future. "With nearly 250 leading researchers and engineers, we are continually upgrading products and developing outstanding new features to solve practical problems for customers and the community", said Dr. Bui Hai Hung, CEO of VinAI.  
Back to News