09/05/2023 VinAI in the news
VinAI Collaborates With Qualcomm To Launch High Performance, Low-Power AI Solution For Smart Cities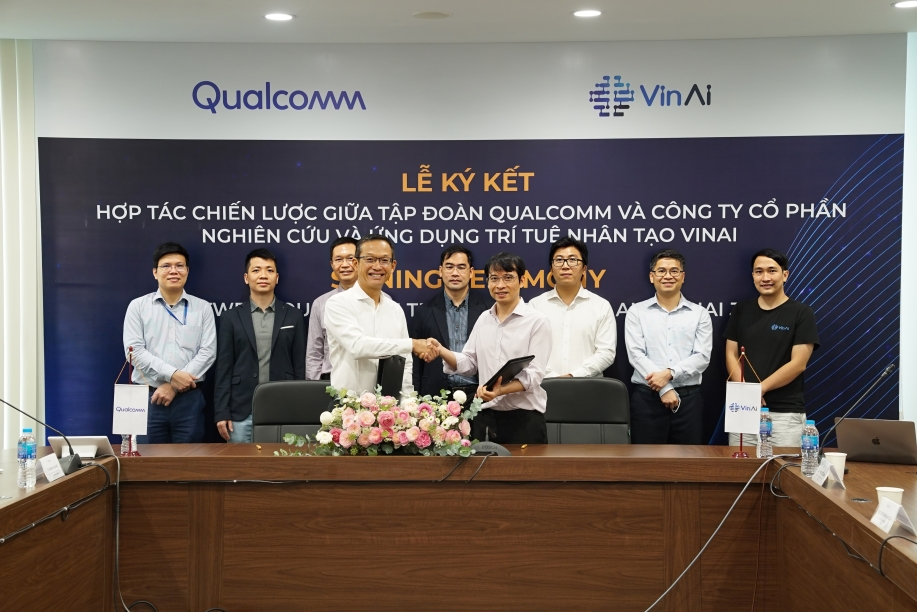 VinAI is excited to announce its collaboration with Qualcomm Technologies, Inc. in the launch of GuardPro, an AI-powered safety and compliance solution for smart cities. The solution is designed for real-time monitoring of residential and commercial buildings in smart cities to enhance safety and compliance.
GuardPro is a comprehensive AI solution that features AI models and leverages advanced computer vision technologies to efficiently support up to 150 camera streams per AI accelerator to detect non-compliance and identify security concerns in the monitored area. The solution is capable of capturing and providing alerts for a wide range of issues such as unallowed object placement in hallways, oversized objects in passenger elevators, parking violations, and other regulatory violations, and sends real-time notifications to the management department.
To develop breakthrough technologies for GuardPro, VinAI has collaborated with Qualcomm Technologies to deploy advanced solutions. The AI models were developed for Qualcomm® Cloud AI 100 hardware using VinAI's high-throughput video analytics SDK, which was built taking advantage of Qualcomm® AI Stack tools.
These optimization efforts can lead to businesses saving up to 30% on hardware costs while simultaneously reducing electricity and operational expenses. GuardPro has the ability to scale, adapt, and self-enhance through real-world applications.
Dr. Bui Hai Hung, CEO of VinAI, expressed his pride in the team for successfully developing the most economical AI solutions for large-scale systems with thousands of GuardPro cameras in about six months. He hopes that GuardPro will join hands to bring modern technology to life, contributing to bringing peace of mind to every home soon.
Rahul Patel, SVP, and GM, Connectivity, Cloud and Networking of Qualcomm Technologies, Inc. stated, "We are working with partners such as VinAI to enable performance breakthroughs leading to practical, efficient, and advanced technologies to enhance security using our edge AI capabilities."
In Vietnam, Vinhomes Smart City (Hanoi) is one of the first urban areas to deploy the GuardPro solution, incorporating the Qualcomm Cloud AI 100 processor into its smart city system. The total number of camera streams being handled by GuardPro at Vinhomes Smart City is more than 9,000 streams in indoor and outdoor areas, including the lobby, elevators, corridors, parking lots, and playgrounds. The AI camera system continuously monitors urban areas and detects abnormalities, sending real-time alerts to the Security Department and improving security and safety.
Mr. Nguyen Dang Trung, Director of Product Development Institute, Vinhomes, shared that GuardPro has brought practical benefits to Vinhomes Smart City, such as contributing to the establishment of safety and ensuring compliance with general regulations for its residents and improving their quality of life.
After its success in Vinhomes Smart City, VinAI plans to deploy GuardPro in many other modern urban areas in Vietnam and expand to other Asian countries. GuardPro will enhance safety and compliance in smart cities and contribute to improving the quality of life of residents.
📌 Click here to know more about GuardPro or contact us via business.se@vinai.io today!
Qualcomm Cloud AI 100 and Qualcomm AI Stack are products of Qualcomm Technologies, Inc. and/or its subsidiaries. Qualcomm is a trademark or registered trademark of Qualcomm Incorporated.
Back to News