24/07/2023 Achievements blog
VinAI Demonstrates Excellence with ISO 9001:2015 Quality Management Certification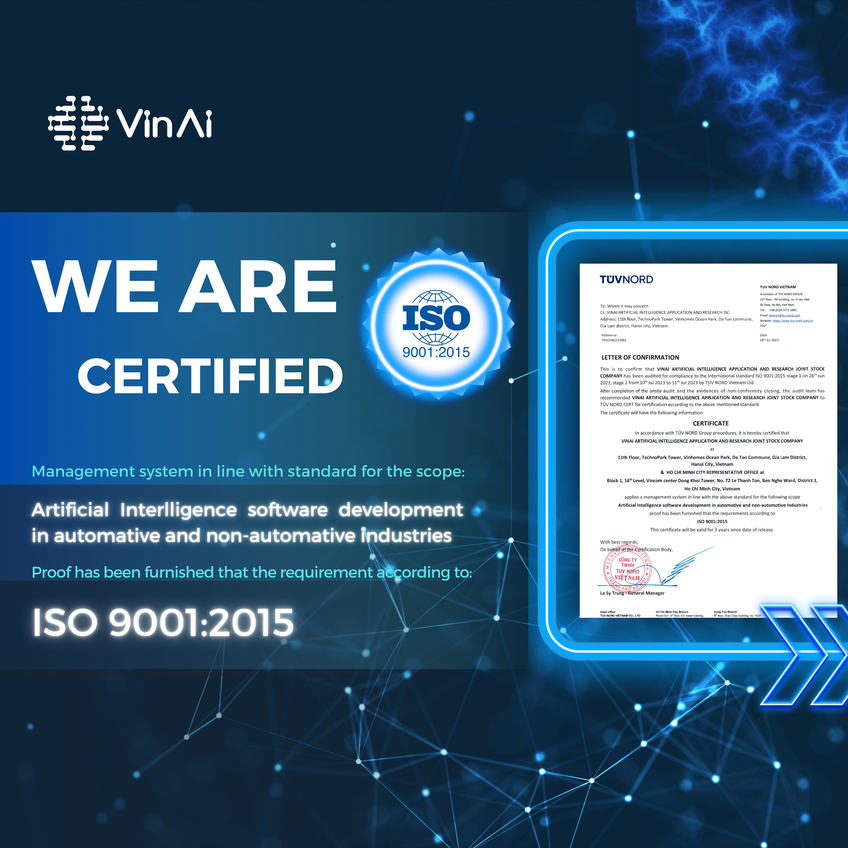 VinAI proudly announced its successful attainment of ISO 9001:2015 certification for its Quality Management System. This significant accomplishment highlights the company's unwavering commitment to continuous improvement and its dedication to ensuring top-notch quality for its diverse range of products and services.
ISO 9001:2015 is one of the most prestigious international standards developed by the International Organization for Standardization (ISO), outlining the requirements for a robust quality management system. The certification serves as a prominent symbol of VinAI's strict adherence to rigorous standards and its effective implementation of meticulous management processes to meet the ever-evolving demands of its esteemed customers and valued partners.
The journey towards ISO 9001:2015 certification was not without its challenges. It involved a comprehensive evaluation of VinAI's organizational structure, resource management, process-oriented approach, and commitment to continual improvement. However, the company's relentless pursuit of excellence and its team's unwavering dedication made this achievement possible.
Obtaining the ISO 9001:2015 certification is a remarkable milestone in our pursuit of excellence. It underscores our commitment to delivering exceptional products and services that exceed customer expectations.
The ISO 9001:2015 certification is not merely a recognition of VinAI's commitment to quality; it is also a reflection of the company's customer-centric approach. By implementing the ISO 9001:2015 standards, VinAI aims to streamline its processes, increase operational efficiency, and foster a culture of continuous improvement, all of which contribute to enhancing customer satisfaction.

In addition to its direct impact on customer satisfaction, the ISO 9001:2015 certification also opens new avenues for VinAI in the international market. It provides a competitive edge, as many businesses and organizations worldwide seek partners who hold ISO 9001 certifications, as it demonstrates reliability, consistency, and a strong focus on quality.
Furthermore, the certification reinforces VinAI's reputation as a reputable and trustworthy partner for businesses seeking cutting-edge AI and technology solutions. This recognition positions the company at the forefront of the industry and strengthens its position as a key player in the global market.
With ISO 9001:2015 certification now firmly in place, VinAI is well-prepared to embrace future challenges and opportunities. The company is poised to continue its trajectory of growth and innovation while maintaining an unwavering commitment to excellence and customer satisfaction.
In conclusion, VinAI's achievement of ISO 9001:2015 certification serves as a testament to its dedication to quality, customer focus, and continual improvement. The certification marks a significant milestone in the company's journey, propelling it forward as a trusted leader in the ever-evolving landscape of artificial intelligence and technology.
Back to News