12/07/2023 VinAI in the news
Viettel IDC joins forces with VinAI and Qualcomm to accelerate the adoption of AI Solutions in Vietnam
Ho Chi Minh City, July 4th, 2023 – VinAI in collaboration with Viettel IDC and Qualcomm, organized a ceremony to sign a Strategic Cooperation Agreement on researching, developing, and enhancing the provision and application of AI solutions in Vietnam
As part of the agreement, Viettel IDC will incorporate VinAI's solutions based on the Qualcomm platform into its product and service offerings. This integration aims to deliver AI camera solutions to Viettel IDC's customers in the near future.
During the signing ceremony, Mr. Hoang Van Ngoc, the CEO of Viettel IDC, stated, "With years of experience in providing technology services in the data center and cloud computing domains, Viettel IDC has always been the top choice for customers and partners. The strategic cooperation with VinAI and Qualcomm signifies a significant step for Viettel IDC, demonstrating its leading role in embracing new technology frontiers, especially AI. By leveraging the combined strengths of Viettel IDC's expertise, Qualcomm's hardware solutions, and VinAI's experienced team of experts, we are committed to providing innovative and cost-effective solutions to our customers in Vietnam. We firmly believe that AI will soon become an integral part of every business and individual's life in Vietnam."
Accordingly, Viettel IDC will offer AI Camera solutions in a B2B and B2B2C model, leveraging their experience in supplying 27,000 enterprise cameras and managing data from nearly 500,000 household cameras in Vietnam. Customers of Viettel IDC will have the opportunity to access and utilize AI services at a reasonable cost, featuring advanced solutions currently available in the market. Viettel IDC stands out as one of the leading domestic companies renowned for providing high-quality data storage for hundreds of thousands of cameras in top-tier data centers in Vietnam, meeting international standards.
According to Mr. Bui Hai Hung, CEO of VinAI, "VinAI is a leading organization in research and application of artificial intelligence in Vietnam. We have successfully developed the most cost-effective AI solutions for large-scale systems with thousands of cameras. I expect that in the near future, AI application services can be widely implemented in businesses and households, enhancing safety, efficiency, and cost savings."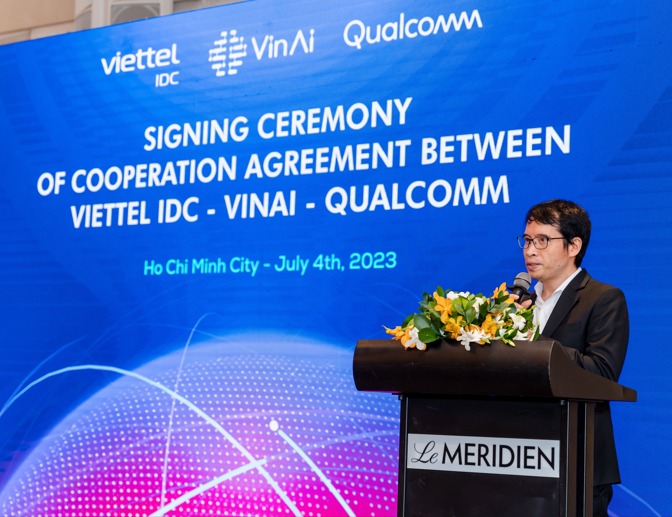 The AI products and services developed by VinAI encompass software and application technologies running on cloud computing platforms for processing artificial intelligence (AI) features. VinAI's advanced AI models and computer vision technologies have the capability to accurately analyze image data from up to 150 camera streams per processor unit, automatically detecting security and safety-threatening behaviors in monitored areas. These products can be deployed on a large scale, handling tens of thousands of cameras, transforming traditional camera systems into intelligent ones at a reasonable cost, saving up to 30% on hardware costs.
VinAI has implemented an AI solution on the camera system of Vinhomes Smart City, Hanoi, with a large-scale deployment of over 9,000 camera streams in indoor and outdoor areas. The AI-enabled camera system provides continuous surveillance in residential areas, detecting anomalies, and providing real-time alerts to the security department. The system has provided practical benefits to customers, enhancing safety, promoting community compliance, and improving the overall living experience.
Qualcomm is one of the world's leading technology companies with a rich history in AI development, commencing with deep learning in 2007. Since then, Qualcomm has consistently invested in AI and in 2008, officially established Qualcomm AI Research to drive research and development in diverse AI domains. This has enabled Qualcomm to closely collaborate with the AI community in exploring promising fields and applications of machine learning, with the goal of driving innovative advancements to introduce AI-based technologies. With a presence in Vietnam since 2003, Qualcomm possesses a team of AI experts ready to share their knowledge and technical expertise to support the development and commercialization of diverse AI solutions in collaboration with strategic partners like Viettel IDC and VinAI.
The collaboration with VinAI and Qualcomm represents an important move for Viettel IDC, demonstrating its strategic approach to strengthening partnerships and expanding the service ecosystem. This collaboration aims to deliver optimal experiences and meet diverse customer needs, aligning with the "One-Stop Shopping" model where all requirements can be fulfilled in one place.
Back to News