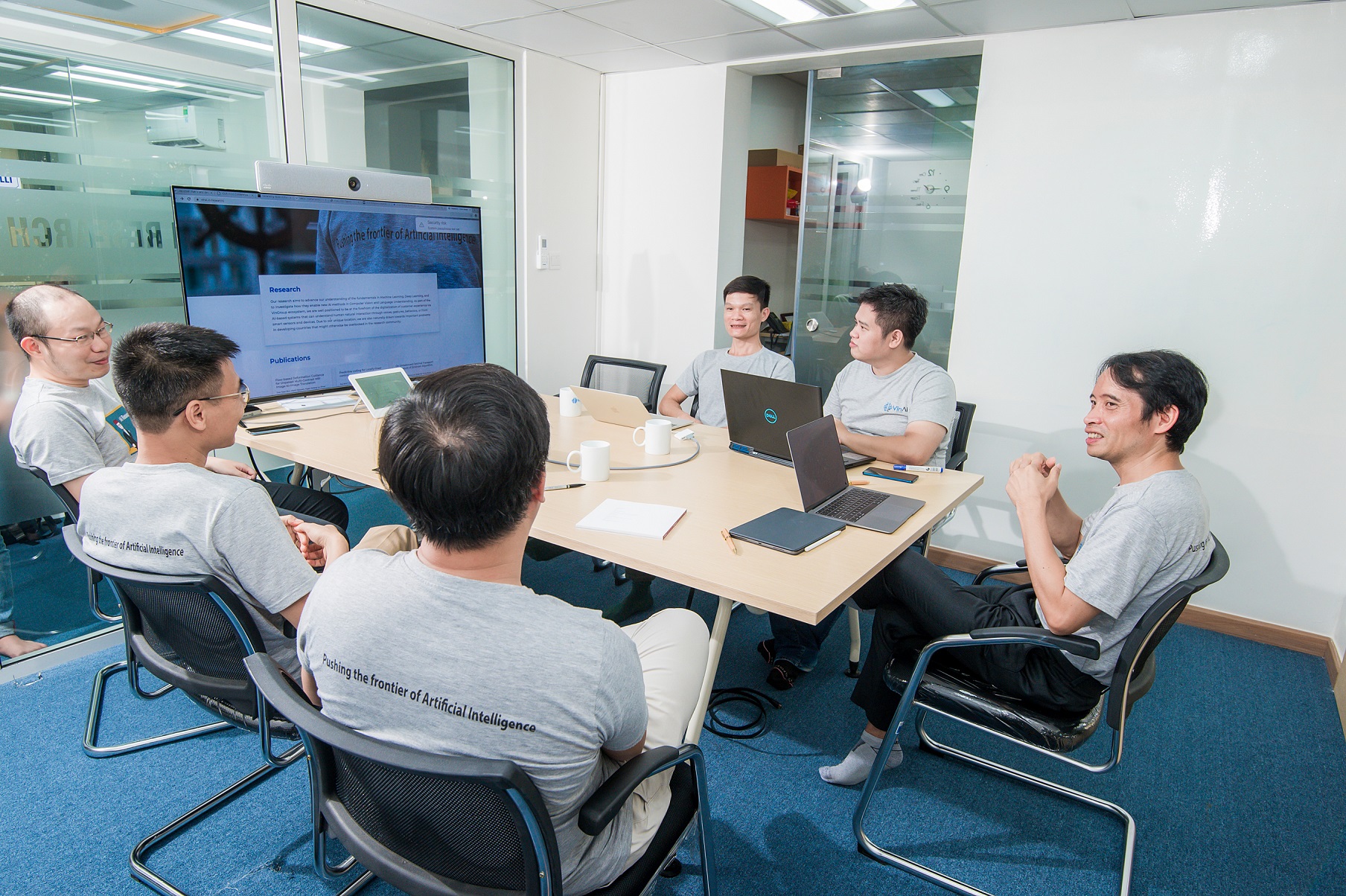 A quick glance into Computer Vision Research at VinAI
07/07/2020
Since its establishment in April 2019, VinAI Research has identified Computer Vision as one of the main research areas. The Computer Vision team, following this direction, was formed with 4 key members including:
Prof. Hoai Nguyen Minh – Principal Research Scientist. Dr. Hoai is an Assistant Professor of Computer Science at Stony Brook University; and is leading the Computer Vision Research group at VinAI.
Prof. Khoa Luu – Senior Research Scientist. He is currently an Assistant professor at the University of Arkansas, and was a former Cylab CMU. He is leading the Applied Research group at VinAI.
Dr. Tuan Anh Tran – Research Scientist. Before joining VinAI, he was a Software Developer Engineer and an Applied Scientist at Amazon AWS Rekognition. He holds a PhD degree from the Computer Science Department of University of Southern California.
Dr. Son Hua – Research Scientist. Prior to VinAI, he spent his enjoyable postdocs at the University of Tokyo and at Singapore University of Technology and Design after completed his PhD at National University of Singapore.
Aiming at Computer Vision's top-tier conferences, some of the team's most outstanding research works include Contextual Attention for Hand Detection in the Wild in ICCV 2019; Transferability and Hardness of Supervised Classification Tasks in ICCV 2019; Active Vision for Early Recognition of Human Actions in CVPR 2020; and Vec2Face: Unveil Human Faces from their Blackbox Features in Face Recognition in CVPR 2020. Check out our publication page to know more!
The team has wrapped up the first quarter of 2020 with some outstanding achievements, including 2 accepted papers at CVPR 2020 and 8 submitted papers to ECCV 2020. The residents working in the Computer Vision group are among the most pro-active and smart residents, and they have contributed to half of the submitted papers. The team has also developed 3 data collection tools and collected a number of datasets for Vietnamese street scenes. On the applied research front, the team has collaborated with VSmart to develop face recognition technology that has been applied to many mobile and IoT devices.
If you're curious about what projects the team is working on, here is a sneak peak of some research projects done by our research scientists, residents and interns. This video is a part of our Vlog series, in which our research staff records themselves explaining current projects when working from home. Check out the Vlog via this link!
In the upcoming months, the team will open a Computer Vision course for all residents and interns with the assistance of Dr. Tuan Anh Tran and Dr. Son Hua, our Research Scientists. This course provides an introduction to computer vision, including essential background knowledge, explanations of methodologies and problem-solving approaches so that learners will understand what computer vision is, and help them to apply it in their research. This is also the basic training for future residents of Computer Vision group.
The course is expected to consist of two parts: Deep Vision (6 weeks) and Classical Method Computer Vision (10 weeks).
We are looking for research scientists & engineers to join this awesome team and work on promising projects in 2020. Interested applicants are welcomed to send their CV to job@vinai.io.
If you are a young talent and curious about what we are working on, the VinAI Internship and VinAI Residency Program in 2020 may be a good fit for you. Check out the application form via this link!
References:
related posts
Explore More