03/03/2023 VinAI in the news
VinAI is proud to announce 10 Accepted Papers to ICLR, AISTATS, and CVPR 2023!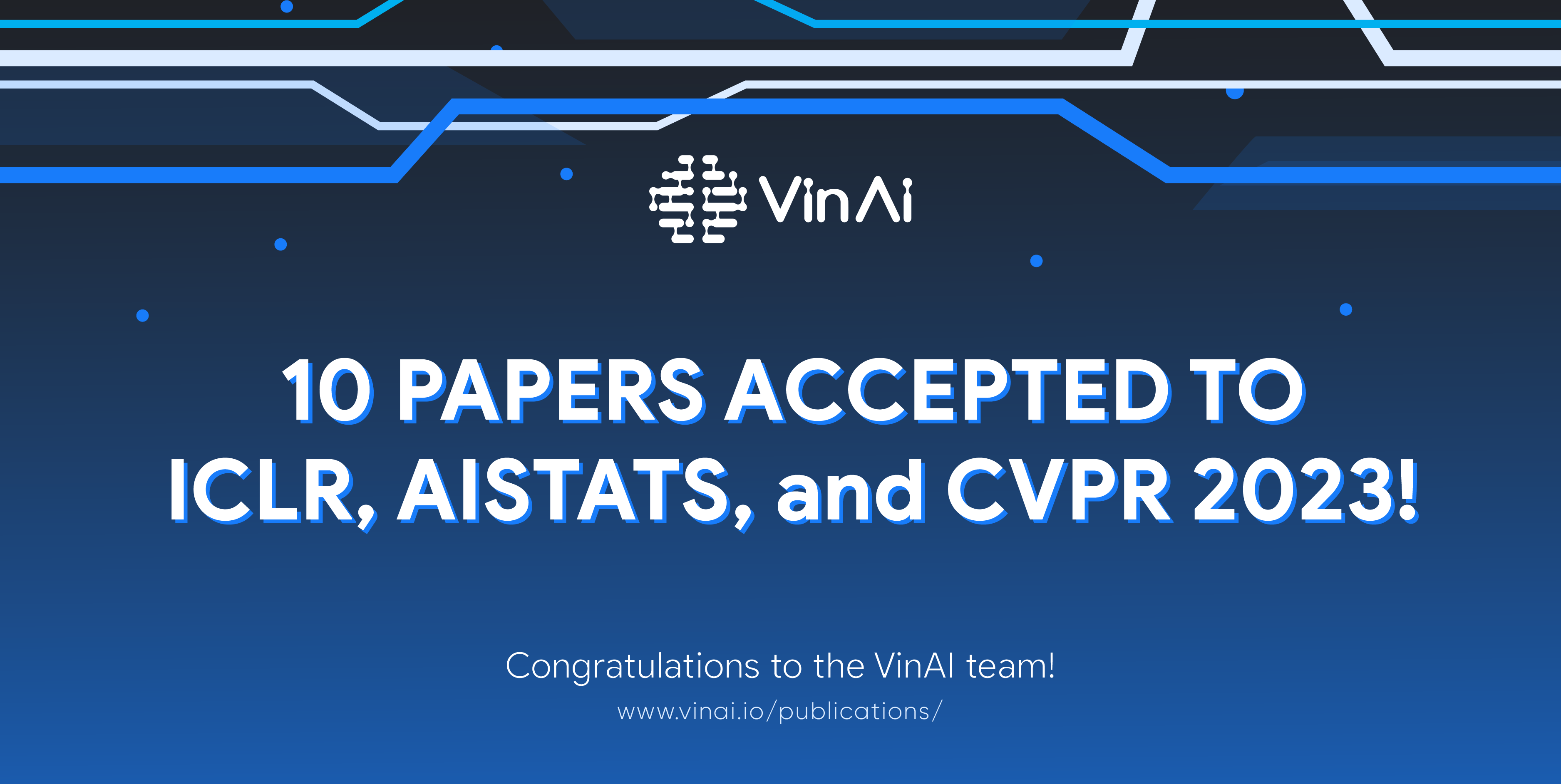 We are proud to announce that we have had 10 papers accepted to some of the most prestigious conferences in the field of artificial intelligence and computer vision – ICLR, AISTATS, and CVPR 2023! Our team has worked tirelessly to conduct cutting-edge research and contribute innovative ideas to the field of AI.  
ICLR and AISTATS are some of the most prestigious conferences focusing on Artificial Intelligence & Machine Learning, whilst CVPR is the most respected conference in Computer Vision. These conferences are among some of the most eminent in the world, and it is a great accomplishment by all involved to have had papers accepted.  
In 2023: 
ICLR will occur from May 1 – May 5, 2023 at the Kigali Convention Center, Rwanda.

 

AISTATS will be held from Apr 25 – Apr 27, 2023 at Palau de Congressos, Valencia, Spain.

 

CVPR will be organized from Jun 18 – Jun 22, 2023 at the Vancouver Convention Center, Vancouver, Canada.

 
Being accepted to top-tier AI and computer vision conferences like ICLR, AISTATS, and CVPR 2023 is no easy feat. It takes a lot of hard work, dedication, and innovative ideas to even be considered for acceptance. The competition is fierce, with countless researchers and academics from around the world vying for a spot at these prestigious conferences. The review process is rigorous and selective, with only the very best papers being chosen for presentation.  
At VinAI, we understand the challenges that come with submitting to these conferences. It requires an immense amount of effort and a deep understanding of the latest research trends and techniques. However, the rewards of being accepted are well worth the effort, as it provides an opportunity to showcase your work to a global audience of peers and experts. 
We are proud to have had 10 papers accepted to these conferences, and we believe it's a testament to the hard work and dedication of our team. We look forward to sharing our research with the world and continuing to push the boundaries of AI and computer vision. We are thrilled that our efforts have been recognized by such esteemed conferences and we are excited to present our work to the world. 
These amazing achievements showcase the high-quality research by the talented VinAI authors.
Congratulations to all authors involved!
2 papers accepted to ICLR 2023:
Distributionally Robust Recourse Action
by

Duy Nguyen, Ngoc Bui

, Viet Anh Nguyen

 
An Additive Instance-Wise Approach to Multi-class Model Interpretation
by Vy Vo, Van Nguyen, Trung Le, Quan Hung Tran, Gholamreza Haffari, Seyit Camtepe,

Dinh Phung
2 papers accepted to AISTATS 2023:
Global-Local Regularization Via Distributional Robustness
by

Phan Viet Hoang, Trung Le

, Trung Phung, Tuan Anh Bui, Nhat Ho,

Dinh Phung
Feasible Recourse Plan via Diverse Interpolation
by

Duy Nguyen, Ngoc Bui

, Viet Anh Nguyen 
6 papers accepted to CVPR 2023:
HyperCUT: Video Sequence from a Single Blurry Image using Unsupervised Ordering
by

Dang Pham

, Phong Tran,

Anh Tran, Cuong Pham, Rang Nguyen, Minh Hoai
Wavelet Diffusion Models are Fast and Scalable Image Generators
by Hao Phung, Quan Dao, Anh Tran
Efficient Scale-Invariant Generator with Column-Row Entangled Pixel Synthesis
by Thuan Nguyen, Thanh Le, Anh Tran
ISBNet: a 3D Point Cloud Instance Segmentation Network with Instance-aware Sampling and Box-aware Dynamic Convolution
by Tuan Ngo, Son Hua, Khoi Nguyen
Object Detection with Self-Supervised Scene Adaptation
by Zekun Zhang,

Minh Hoai
Gazeformer: Scalable, Effective and Fast Prediction of Goal-Directed Human Attention
by Sounak Mondal, Zhibo Yang, Seoyoung Ahn, Dimitris Samaras, Greg Zelinsky,

Minh Hoai
*Blue Author: VinAI author
About us
VinAI – formerly VinAI Research Institute belonging to Vingroup JSC – is one of the top 20 global AI companies developing world-class products and services. Our head office is located in Hanoi, Vietnam, with additional technology hubs across the US, Europe and Australia.​ Read our publications at www.vinai.io/publications/
Back to News