AI Residency Program: Research Track
at VinAI (View all jobs)
Hanoi, HCM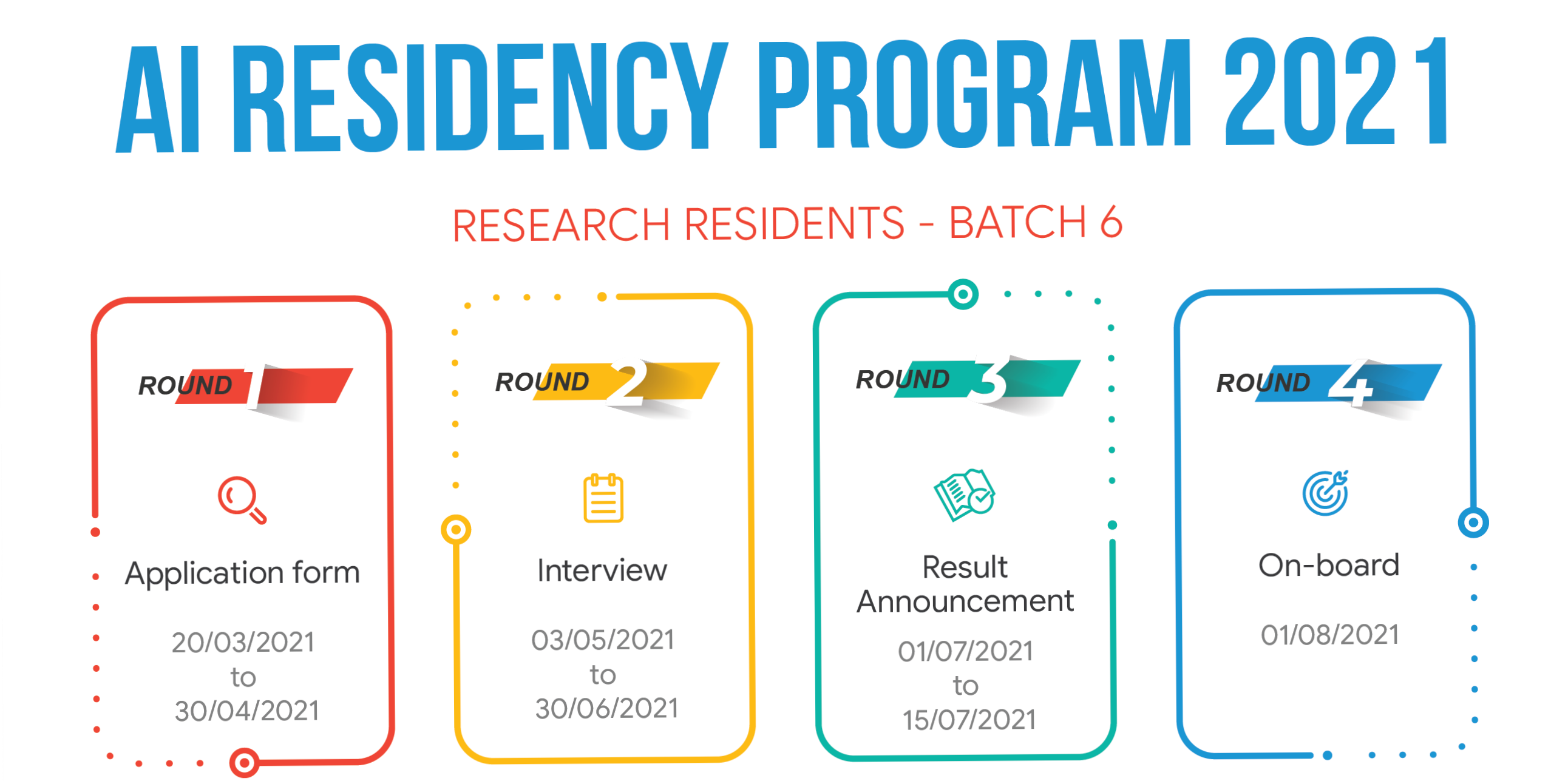 Proud to be the first and most reputed AI Residency program in Vietnam,  VinAI continues its signatory endeavor to identify and nurture young AI talents and train them to  be the future scientists, engineers and leaders in AI. Led by the residents themselves, ground-breaking contributions in AI research have been conducted and published in top-notch venues, instantly making VinAI Residency program as one of the most prestigious residency programs worldwide for young talents. More than 50% of its first generation residents, mostly home-grown in Vietnam, have received PhD admission (with full scholarship) to the top 20 universities in AI in the world (e.g., UCLA, UT Austin, John Hopkins, EPFL). Beyond Vietnam, the program has now frequently received worldwide applications including students from prestigious institutions such as UC Berkeley, Columbia university or Tokyo university.   
Addressing three critical bottlenecks in an AI career development for the youth: the opportunities to build adequate background and access to world-class expertise for a serious research career in AI, the opportunities to apply AI fundamental research to solve real-world impact problems, and most importantly, access to adequate computing-intensive facilities, through Research Track, our residents are trained and assigned to work on exciting research problems, closely mentored by our research scientists and in many cases, co-mentored by leading researchers and academics from top universities in the world. VinAI also provides an envious environment with access to state-of-the-art DGX servers. The core research program is to push the frontier in machine learning (ICML, NeurIPS, ICLR), computer vision and robotics (CVPR, ICCV, ECCV) and speech/natural language processing (ACL, NAACL, Interspeech, ICASSP). During the program, the residents will also have the chance to engage in  excited designated applied projects such as perception, planning and control or decision making problems in autonomous driving technology.
---
Research Resident's Responsibilities
This is a 2-year program. In the first year, residents will be required to  take compulsory training to build a strong background on both mathematics (linear algebra, probability and statistics, optimization), machine learning and deep learning by taking classes instructed by VinAI research scientists. Towards the second year, the resident will be matched with one or more  mentors on a research topic of their aligned interests. Each resident is expected to contribute to all aspects of research projects, including idea inception, experiment design and implementation, and writing/presenting research work at top-tier conferences in AI under the supervision/guidance of the mentor(s). After 9 months, the resident is also expected to take three months applied rotation project to work and gain experiences in real-world, industry AI applications.
Requirements
Current penultimate or final year students, recent graduates in a CS program (or equivalence) in a University in Vietnam or abroad.

Strong, self-driven interest in conducting research work, a healthy curiosity and the ability to learn new in-depth technical materials.

Exceptionally strong ability in either mathematics or coding skills or both.
(Preferences will be given to candidates with demonstrated evidence for their abilities (e.g. previous research experiences at local university, participation in international/national competitions in science and programming, popular GitHub repos of implementation of machine learning models, completion of basic online AI open courses).

Adequate communication in reading, writing, and spoken English. Advanced English technical communication training will be provided at the research lab.
Benefits
Residents will gain both hands-on research experience and applied industrial experience at an international level with:
World-class training and mentorship

Fundamental courses in Machine Learning, Deep Learning, Maths, Computer Vision, Natural Language Processing, English

A dynamic environment with excellent research scientists & AI engineers of VinAI

Competitive compensation package

Training package up to $20,000/year
---
How to apply
We are now looking for research residents: http://bit.ly/AIResident_register_batch6