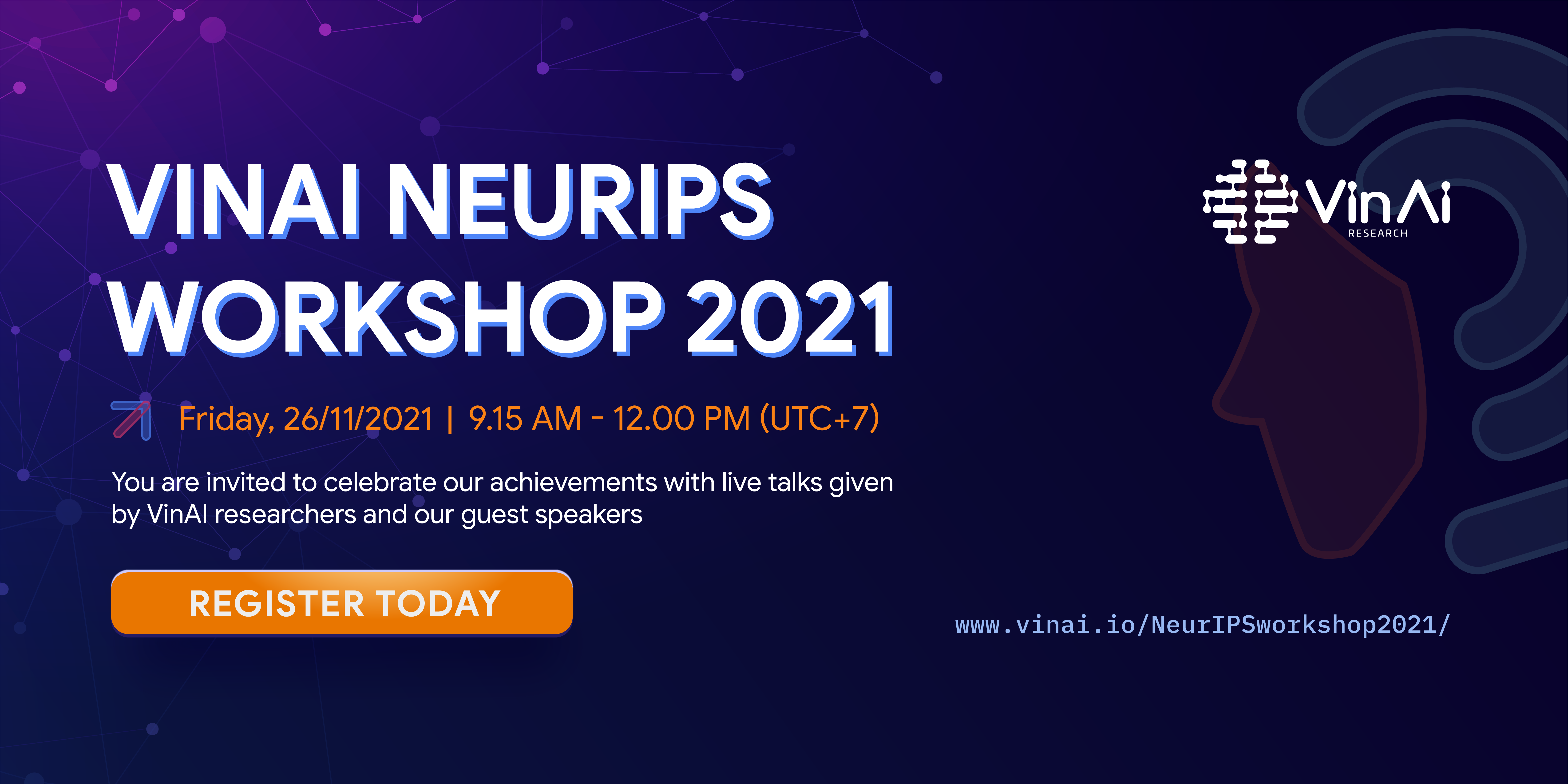 VinAI NeurIPS Workshop 2021
22/11/2021
VinAI Research is proud to have eight (08) papers accepted to the Conference on Neural Information Processing Systems (NeurIPS 2021). The NeurIPS conference is the world's leading venue for artificial intelligence and machine learning research publications.
You are invited to celebrate our achievements by joining the VinAI NeurIPS Workshop 2021 with live talks given by VinAI researchers and our guest speakers. Further details follow.
Time: 9:15 AM – 12:00 PM, (Vietnam time, GMT+7), Friday, November 26, 2021
The language used: English
Online participants can ask speakers questions at: https://app.sli.do/event/gtepu2if
Livestream from Vietnam
Program details are as follows:
Hanoi time
Topic
Speaker
9:15 AM – 9:30 AM
Welcome message & Program outline
Viet Anh Nguyen
9:30 AM – 9:45 AM
Paper: Domain Invariant Representation Learning with Domain Density Transformations.
Authors: A. Tuan Nguyen, Toan Tran, Yarin Gal, Atilim Gunes Baydin
A. Tuan Nguyen (Oxford)
9:45 AM – 10:00 AM
Paper: Exploiting Domain-Specific Features to Enhance Domain Generalization.
Authors: Ha Bui, Toan Tran, Anh Tuan Tran, Dinh Phung
Ha Bui
10:00 AM – 10:15 AM
Paper: On Learning Domain-Invariant Representations for Transfer Learning with Multiple Sources.
Authors: Trung Quoc Phung, Trung Le, Long Tung Vuong, Toan Tran, Anh Tuan Tran, Hung Bui, Dinh Phung
Trung Phung / Long Vuong
10:15 AM – 10:30 AM
Paper: Structured Dropout variational inference for Bayesian neural networks.
Authors: Son Nguyen, Duong Nguyen, Khai Nguyen, Khoat Than, Hung Bui*, Nhat Ho*.
Son Nguyen
10:30 AM – 10:45 AM
Paper: Contrastive Learning for Neural Topic Model
Authors: Thong Thanh Nguyen, Tuan Anh Luu
Thong Nguyen
10:45 AM – 11:00 AM
Paper: POODLE: Improving Few-shot Learning via Penalizing Out-of-Distribution Samples
Authors: Le Hoang Duong*, Nguyen Duc Khoi*, Khoi Nguyen, Quoc-Huy Tran, Rang Nguyen, Son Hua
Khoi Nguyen Duc
11:00 AM – 11:15 AM
Paper: Adversarial Regression with Doubly Non-negative Weighting Matrices
Authors: Tam Le, Truyen Nguyen, Makoto Yamada, Jose Blanchet, Viet Anh Nguyen
Tam Le (RIKEN)
11:15 AM – 11:30 AM
Paper: Modified Frank Wolfe on Probability Space
Authors: Carson Kent, Li Jiajin, Jose Blanchet, Peter Glynn
Li Jiajin (Stanford)
11:30 AM – 11:45 AM
Paper: Robust Generalization despite Distribution Shift via Minimum Discriminating Information
Authors: Tobias Sutter, Andreas Krause, Daniel Kuhn
Tobias Sutter (Konstanz)
11:45 AM – 12:00 PM
Paper: On robust optimal transport: Computational complexity and barycenter computation.
Authors: Huy Nguyen*, Khang Le*, Quang Nguyen, Nhat Ho, Tung Pham, Hung Bui.
Huy Nguyen / Khang Le
⏰ This virtual workshop will be live-streamed on VinAI YouTube channel and other social networking platforms of VinAI Research. Stay tuned for more updates regarding this event!
Subscribe & Follow us on:
→ YouTube: http://youtube.com/VinAIResearch
→ LinkedIn: http://bit.ly/VinAILinkedIn
→ Twitter: https://twitter.com/VinAI_Research
related posts
Explore More