19/04/2021 Achievements blog
Highlights from AI Residency Program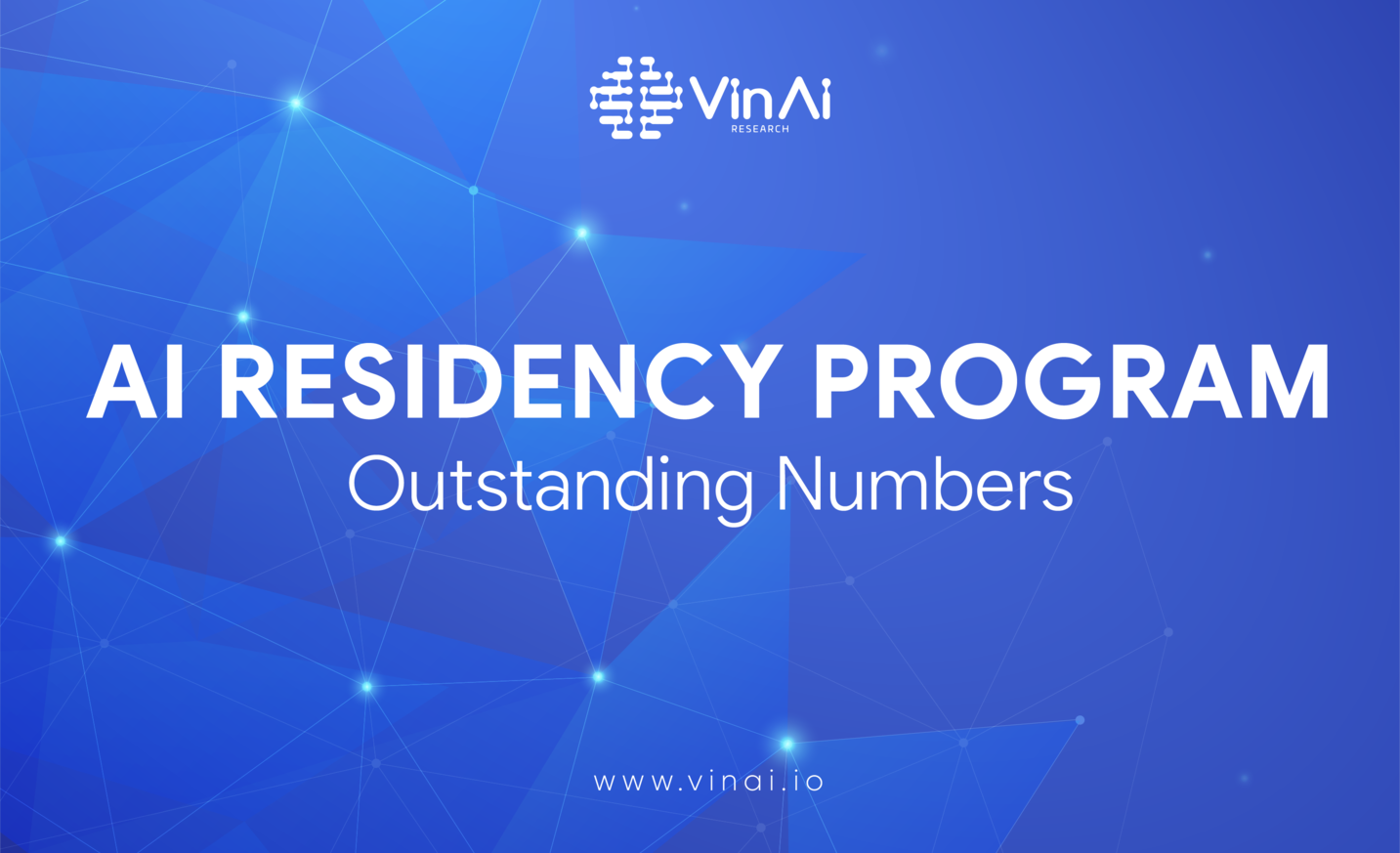 Since 2019, we are proud to be the first and most reputed AI Residency program in Vietnam. Led by the residents themselves, ground-breaking contributions in AI research have been conducted and published in top-notch venues.
We would love to show you some numbers, collected from 17/04/2019 to 01/04/2021, to tell you more about us:
First, let's look at the big picture:
400

– Applications we received and the number is still growing…
150

– Candidates have passed the Application screening round and been interviewed with our Research Scientists.
50

– Research Residents have joined our program and they are provided courses in Machine Learning, Mathematics, Computer Vision, Natural Language Processing, English, etc. led by our world-class mentors. Among 50 of them:
17 residents (34%) graduated with a High Distinction Degree
25 residents (50%) graduated with a Distinction Degree
5 residents (10%) graduated with an overseas Bachelor's Degree
7 residents (14%) got a Master's Degree
13 papers in which our residents are the first authors, got accepted at Top-tier conferences: NeurIPS, ICML, ICLR, CVPR, EMNLP, NAACL, and AAAI.
See our AI Residency Publications at https://www.vinai.io/publications/
14 Ph.D Scholarships from the TOP 20 Best Computer Science Universities worldwide are offered to 6 out of 11 (54%) Batch-1 residents during their 2-year program. We can highlight the names: University of California, San Diego, University of California, Los Angeles, The University of Texas at Austin, Johns Hopkins University, École Polytechnique Fédérale de Lausanne, University of Maryland, Cornell University, and University of Michigan. The remaining Batch-1 residents succeed in being young entrepreneurs or full-time VinAI research engineers.
If you are interested in joining our Batch-6, applications for AI Residency program 2021 are now open!
? ????? ???: http://bit.ly/AIResident_register_batch6
Should you need any information, please contact us via
Hotline: +84 932 349 967 (Ms. Thùy)
Email: job@vinai.io
Subscribe & follow us on:
• YouTube: http://youtube.com/VinAIResearch
• LinkedIn: http://bit.ly/VinAILinkedIn
• Twitter: https://twitter.com/VinAI_Research
Back to News