26/10/2021 Achievements blog
AI Residency Program 2022 Application is now OPEN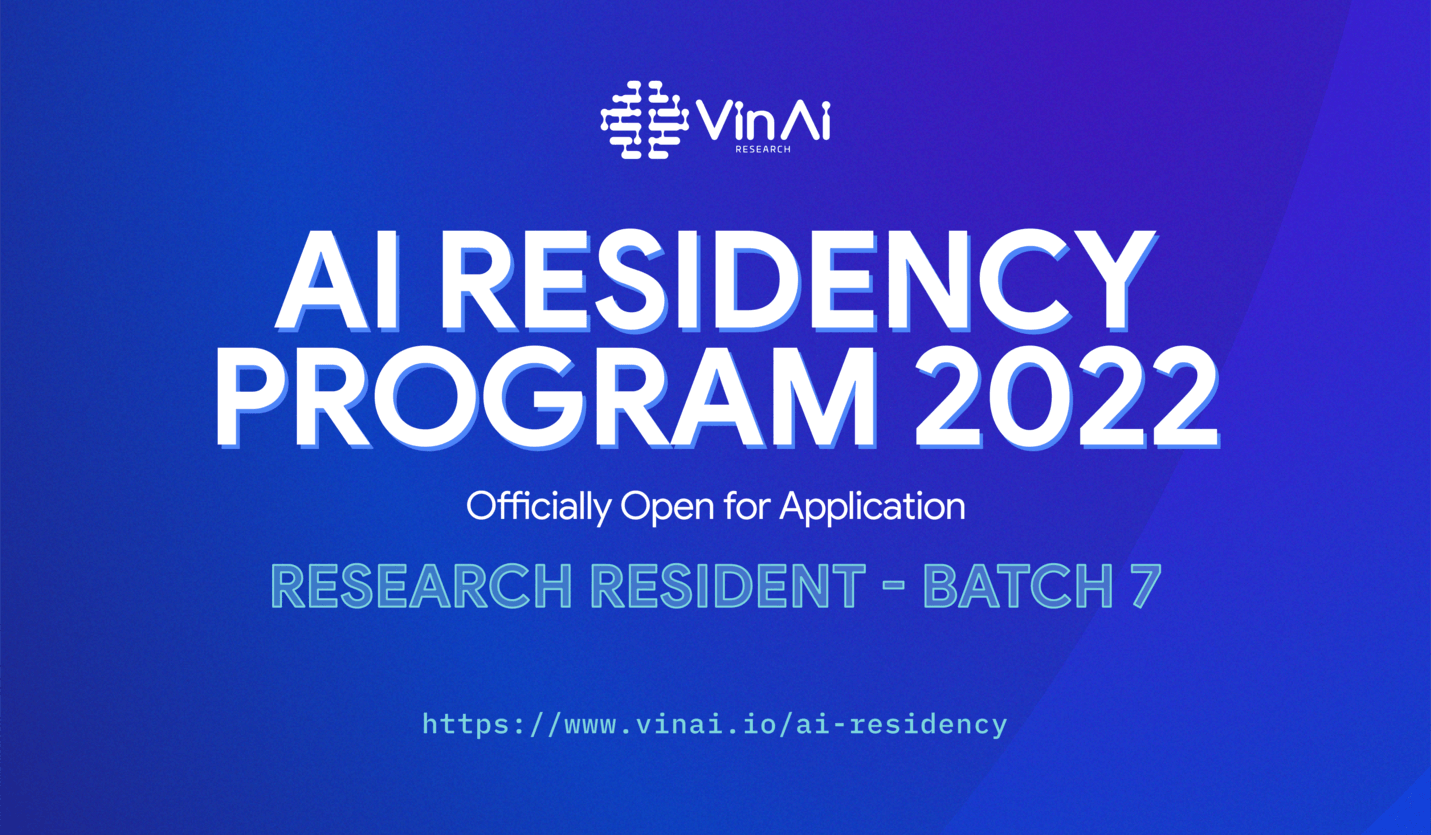 The prestigious program which is worth dreaming for is now OPEN for application. We will be open for applications this winter and welcome the next batch of Research Residents in 2022. Having been successful in achieving 20 scholarships for Ph.D. students for the first batch, while also bringing new opportunities at VinAI Research for our alumni, we believe that VinAI Residency Program will be a greatly promising incubation for your career. 
Started in 2019 with the goal of nurturing and training the next-generation AI researchers and future leaders, the program is designed to address a critical bottleneck in the career development of young talents: The lack of opportunities to gain both adequate research and applied industrial experience at a world-class research facility.
HIRING PROCESS
We would love to introduce you to our Interview Process for Research Resident Batch 7. Please note that only short-listed candidates will be invited to our Entrance Tests and the Interviews.
1. CV Screening
2. Entrance Test & Video Submission (for testing your English level) 
We will have 2 separate days for this round.
November Test: 30/11/2021
December Test: 18/12/2021
The requirement for Video Submission will be sent after the test.
3. Coding Interview: From 25 – 31/12/2021
4. Research Interview: 01/01 – 20/01/2022
The results will be announced between 5/2/2022 – 28/2/2022.
---
We offer you:
1:1 World-class mentorship
Fundamental courses in Machine Learning, Maths, Computer Vision, Natural Language Processing, English,…
A dynamic environment with excellent research scientists & AI engineers
Competitive compensation package
We look for the strongest candidates who are:
Both undergraduates and recent graduates
Bearing a strong, self-driven interest in conducting research work
Having an exceptionally strong ability in either mathematics or coding skills
Able to communicate in English adequately.
Please note that our Application Form is OPEN from 26/10/2021 to 15/12/2021.
APPLY NOW: http://bit.ly/AIResident_register_batch7
Should you need any information, please contact us via
Hotline: +84 932 349 967 (Ms. Thùy)
Email: job@vinai.io
---
For more information about AI Residency Program: https://www.vinai.io/ai-residency/
Subscribe & follow us on
• YouTube: http://youtube.com/VinAIResearch
• LinkedIn: http://bit.ly/VinAILinkedIn
• Twitter: https://twitter.com/VinAI_Research
Back to News