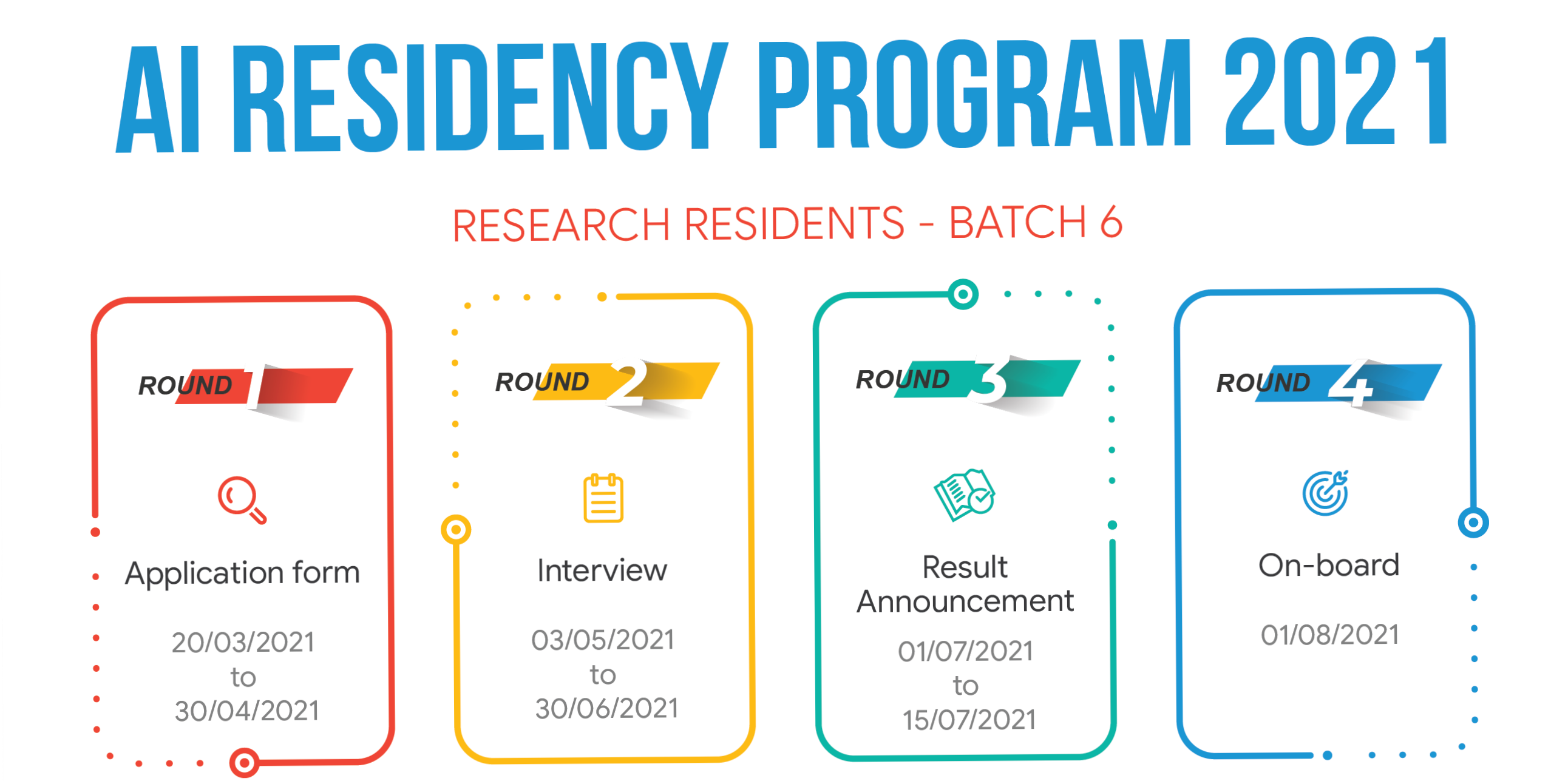 AI Residency Program 2021 Applications is now open
25/03/2021
We are pleased to officially announce that our AI Residency Program is opening NOW. After more than one year of incubating young talents from the most prestigious universities in Vietnam and over the world, we now look for excellent candidates in Batch 6, who will soon become our Research Residents.
Apply now: http://bit.ly/AIResident_register_batch6
The program is designed to identify young AI talents and train them to become future leaders in various areas of AI. The research residents will contribute to all aspects of research projects including idea inception, experiment design, and implementation, and writing and presenting research work at top-tier AI conferences.
We offer you:
1:1 World-class mentorship,
Fundamental courses in Machine Learning, Maths, Computer Vision, Natural Language Processing, English,…,
A dynamic environment with excellent research scientists & AI engineers,
Competitive compensation package.
We look for TOP 15 strongest candidates who are:
Both undergraduates and recent graduates,
Bearing strong, self-driven interest in conducting research work,
Having exceptionally strong ability in either mathematics or coding skills,
Able to communicate in English adequately.
Hereunder is our general timeline of the selection process this year:
1. Application form: 20/3/2021 – 30/4/2021
2. Interview: 3/5/2021 – 30/6/2021
3. Result Announcement: 1/7/2021 – 15/7/2021
4. On-board: 1/8/2021
𝐀𝐏𝐏𝐋𝐘 𝐍𝐎𝐖: http://bit.ly/AIResident_register_batch6
Should you need any information, please contact us via
Hotline: +84 932 349 967 (Ms. Thùy)
Email: job@vinai.io
For more information about AI Residency Program: https://www.vinai.io/ai-residency/
Subscribe & follow us on
related posts
Explore More